By Kasondra White on May 1, 2008
In Grade One, six-year-old Jennifer Douse, decided that she wanted to be a doctor when she grew up. A Metis from Fort Nelson, Douse is today among the first medical students to graduate from UBC's distributed medical undergraduate program.
By Kasondra White on March 1, 2008
Greetings! I am Michele A. Sam, member of the Ktunaxa Nation and the mother of two children. I am the eldest of eight children, all of whom experienced the 60's scoop. As a result of the many social, cultural, professional, and personal roles I live, I am deeply aware that the well being of children […]
By Basil Waugh on December 6, 2007
Magnolia Unka and Sita-Rani MacMillan want to improve the lives of Aboriginal people in Canada: they're just going about it in different ways. One plans to use the court room, the other, the classroom.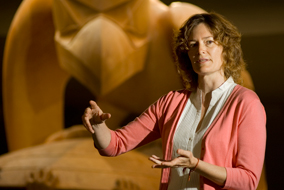 By Julie-Ann Backhouse on September 6, 2007
In Haida Gwaii, off British Columbia's remote northwest coast, teachers are exploring connections between oral stories and mathematical problem solving.
By Derek Moscato on August 9, 2007
For aspiring entrepreneur Vivian Bomberry, the irony of the term cohort — used in education circles to define a group of students in the same class year — wasn't lost when she began her studies in the Ch'nook Advanced Management Program at UBC last November.
By Bud Mortenson on May 3, 2007
Grandma Rose was thrilled when granddaughter Viola chose to pursue a nursing degree after her first year of university.