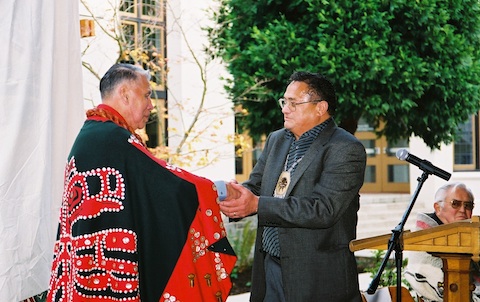 Chief Campbell (r) with Edwin Newman at the dedication of the Victory Through Honour Pole, 2005
We students, staff and faculty at UBC and the First Nations House of Learning expresses our most sincere condolences for the communities of Musqueam, Vancouver, British Columbia, and Canada for the loss of former Musqueam Chief Ernest Campbell. Chief Ernie Campbell was a powerful voice for B.C. First Nations and tireless advocate for his community Musqueam. Campbell fought for Aboriginal land and fishing rights throughout the 14 years he served as chief of Musqueam, whose traditional territory includes Vancouver.
Ernie attended St. Paul's Residential School and graduated from Magee High School in Vancouver. He is a former boxing champion holding titles such as the Golden Gloves, Silver Gloves, and Buckskin Gloves. He had a passion for soccer as a player, coach, and fan. He was also a warrior for canoe racing and spent many years of time and commitment with the 7 Sisters Canoe Club. He was a devoted husband, father and grandfather and was a strong pillar of strength in his family and community.
As remembered by community member Mary Point: "ʔa: si:y̓ém̓ nə siyéy̓ə, he stood up for us. he drove our children to school. he loved us. and we loved him right back. Prayers, love, and strength for those he leaves behind… we are here for you. RIP Chief Ernie Campbell hay čχʷ q̓ə, səy̓əm̓.
Prayers at 7:00 pm Tuesday October 29th
Funeral at 9:30 am Wednesday October 30th
Musqueam Community Centre
6735 Salish Drive
Vancouver, BC V6N 4C4